Chiara, 1987 yılında İtalya'da doğdu. Aslında bir hukuk öğrencisiyken 2009 yılında açtığı moda ve güzellik blogu olan The Blonde Salad'la tanındı.
2011 yılında New York'ta bilinen bir isim olmuştu. Moda anlayışı, giydikleri, güzellik önerileri ve her detay… Milyonlarca insana bu şekilde ulaşıyordu. 'Moda Bloggerı' kavramını bizimle tanıştıran belki de ilk isimlerden biriydi.
Moda Haftaları için davetiye kovalıyor, markalarla kendi iletişime geçip ürünlerinin reklamını yapmayı teklif ediyordu.
Moda haftaları, defileler, özel davetler; moda dünyasıyla güçlü bağlantılar kurdu ve hobisini profesyonel bir girişime çevirdi. The Blonde Salad kendi şirketinin ismi oldu ve kendi markasını da kurarak buradan da para kazanmayı sürdürdü.
2013 yılında Guess için modellik yaptı. Ardından Steve Madden için 9 ayakkabı tasarladı. Adeta günümüze dek ünü katlanarak arttı, Chanel, Louis Vuitton, Christian Dior gibi sayısız markayla projelerde yer aldı.
2006'dan 2013'e kadar birlikte olduğu Ricardo Pozzoli, aslında bu başarının ardındaki görünmeyen isimdi. Chiara'yı hukuk okurken blog açmaya yönlendiren de, markanın büyüme sürecindeki stratejileri belirleyen de oydu. Ayrıldıktan sonra da Chiara'nın ayakkabı markasının başında olmaya geçen yıla kadar devam etti.
Sunucu, yazar ve model olarak sosyal medya üzerinden de sağlam bir takipçi sayısına ulaşan Chiara, 2014 yılında Bloglovin ödülünün sahibi oldu.
Artık Moda Haftaları için davetiye kovalamıyor, en ön sıradan yeri hep hazır ediliyordu.
O artık bir It Girl olmuştu!
10 dolara açtığı blogu ise ona milyon dolarlar kazandırıyordu.
İtalya'da oldukça popüler bir rap yıldızı olan 29 yaşındaki Federico Leonardo Lucia, bilinen adıyla Fedez; nişanlanmalarının ardından tüm dünyanın dikkatini çekti. Düğün günü ise adeta masal gibiydi. Sicilya'daki görkemli törende en çok konuşulan ise şüphesiz Chiara'nın giydikleriydi.
Düğün öncesi yemeğinde giydiği bu elbise Prada tarafından özel olarak onun için tasarlandı.
Gelinliği ise Chiara Ferragni'nin hayalindeki gelinliği yansıtan, yine özel dikim bir Dior oldu. Dior marka gelinliği iki parçadan oluşuyordu ve tam 600 saatte hazırlanan bu gelinlik Maria Grazia Chiuri'nin imzası taşıyordu.
Gelinliğin sürprizi eteğin tamamen çıkarılabilir olmasıydı. Böylece rahat bir tuluma dönüşen gelinliği, Chiara Ferragni farklı şekillerde kullandı.
Son dönem düğünlerinde gelenekselleştiği üzere ikinci bir elbise daha giyen Chiara'nın bu elbisesi de özel bir Dior'du. Üstünde çeşitli semboller ve yazılar bulunan elbisedeki sözler, Fedez'in kendisi için yazdığı şarkı sözleri.
Gelinlik ve elbisenin altına yine Dior ayakkabı tercih eden Chiara'nın ayakkabısının bandında adı yazıyordu. Dünyaca ünlü bu modele kendisi için ismi yazılmıştı.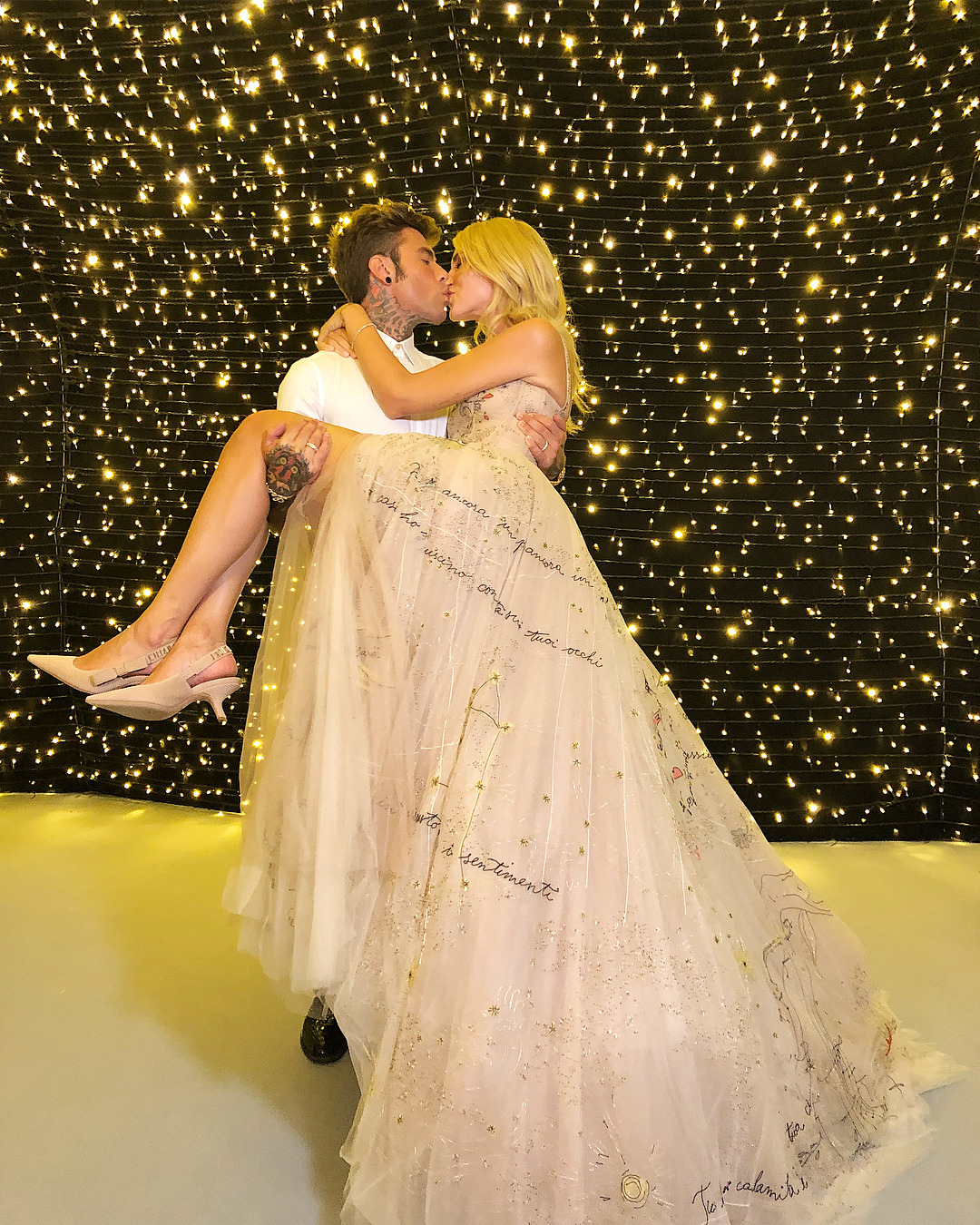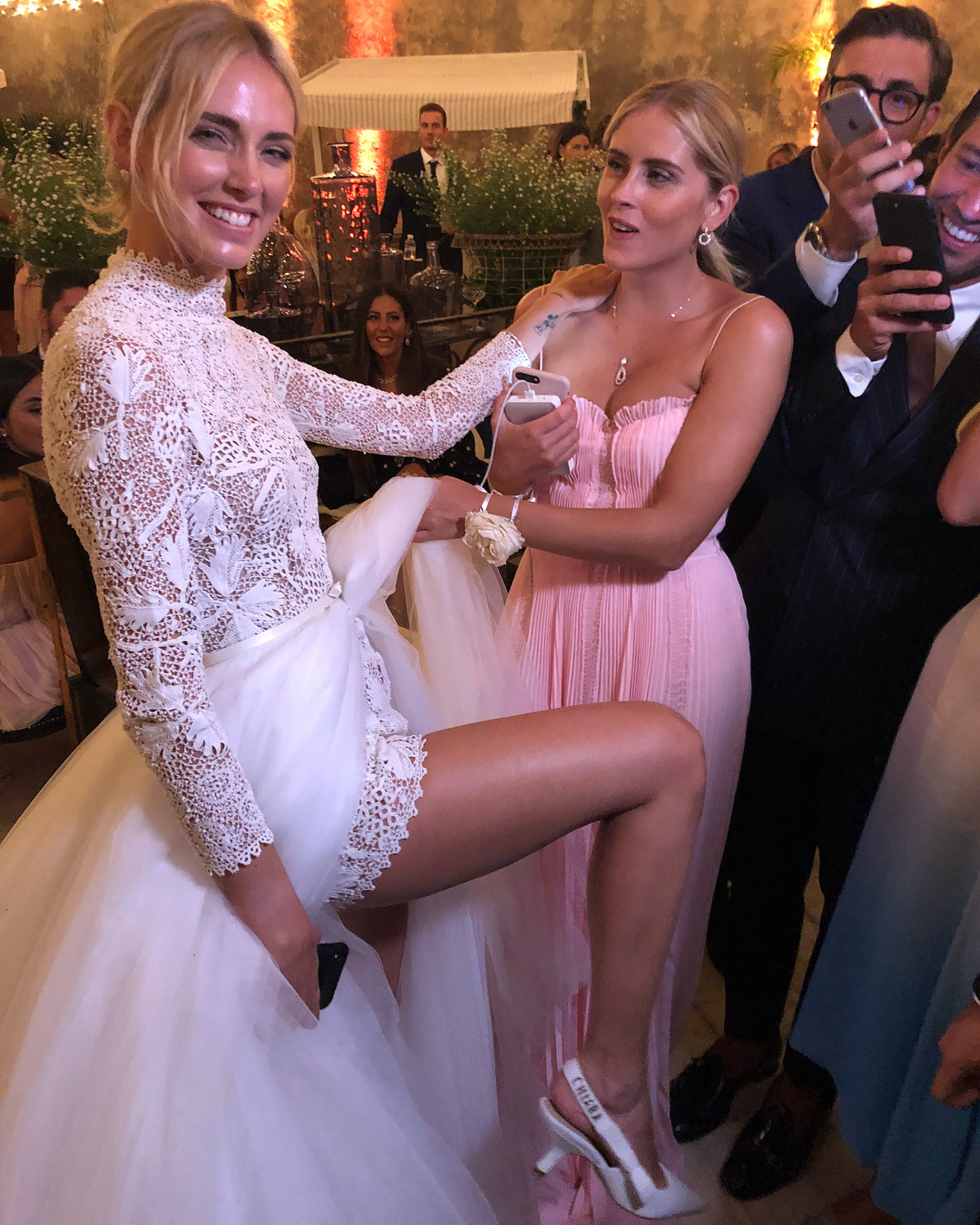 Elbette birçok karede 5 aylık bebekleri Leon da bulunuyordu. Rüya gibi geçen bir gecenin ardından çift yılın en çok konuşulan düğünlerinden birine imza atmış oldu.
Chiara ayrıca, Harvard Business School'un üzerine vaka çalışması yaptığı ilk ve tek blogger!
Blogger'lığın mesleğe dönüşmesine tüm dünya burun kıvırsa da, Chiara herkese ve her şeye inat yarattığı büyük başarı imparatorluğunda yükselmeye devam ediyor!
---
Elçin Köse
"Moda değişkendir, fakat stil her daim sizin ruhunuzu yansıtır."
---
Bu yazıdaki referanslar:
---
Subscribe our YouTube Channel!
Follow us on Instagram!
Share Now: